how to create amazingly realistic
bass & drums backing tracks
so you can record great videos
how to create amazingly realistic
bass & drums backing tracks
so you can record great videos
This previously recorded workshop is focused on the process that I use to create very realistic bass and drums jazz backing tracks to practice with and record. Many people have commented on these backing tracks on YouTube and Social Media, and now it's time to show you how I do it.  
In this 1-hour live Zoom workshop (previously recorded), I'll show you how to:
Create a jazz bass line, get the perfect VST plugin sound, and use your DAW to play it and record with it.
Get a very realistic drum sound using loops and VST plugin for fills using your DAW.
Make a great recording, with your backing track, for YouTube, demo, or even your next album!
After this workshop, you'll know exactly the tools you'll need and the steps to take to create a realistic jazz backing like the one I used for the tutorial on Killer Joe…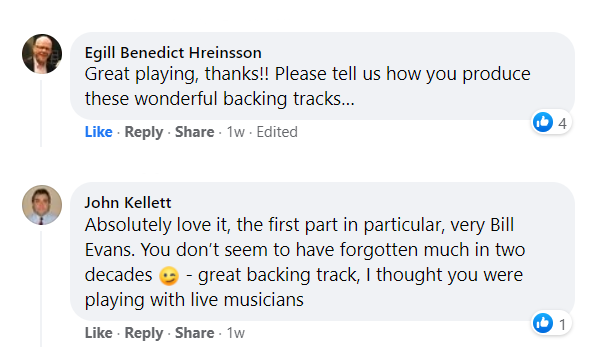 Get it Now, IT'S FREE! But hurry, we may remove it at anytime.
How to Create Realistic Backing Tracks
Step 1 – Fill Out the Form | Step 2 – Confirm Your Email Address | Step 3 – Receive Download Link
*This is a free service provided by Jazzmentl and Paul Tobey, credit card not required.