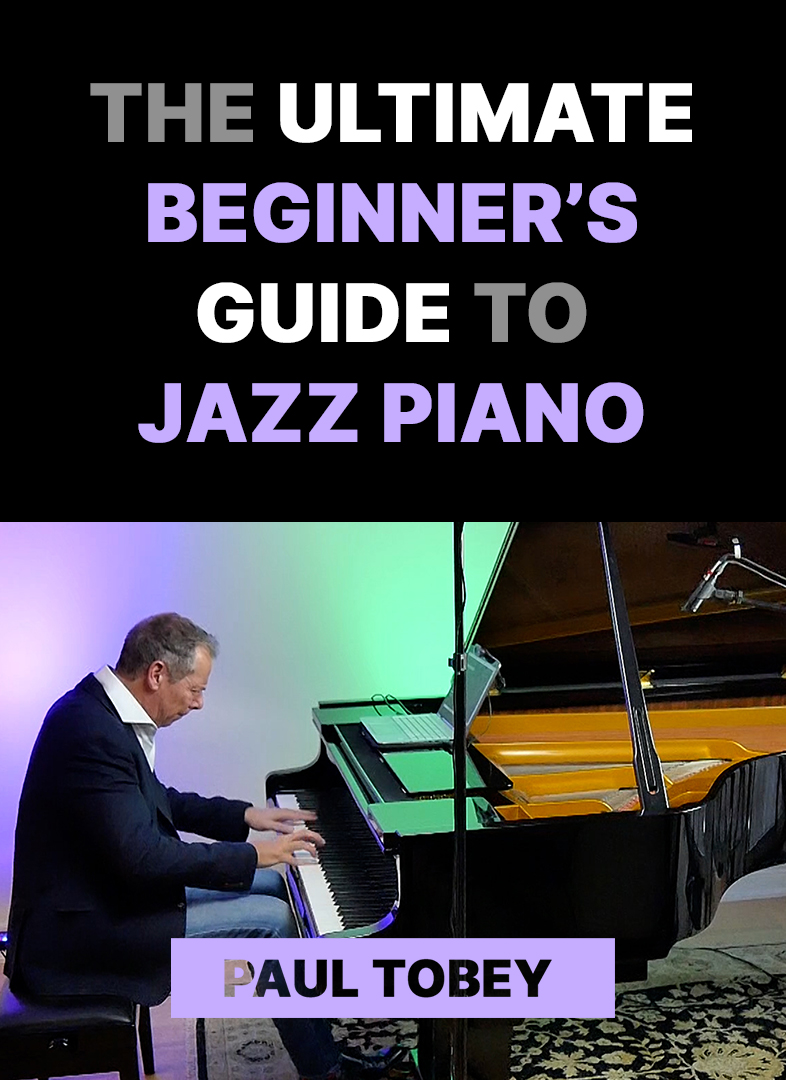 10 step-by-step
Video courses
Elevate Your Jazz Piano Skills with Advanced Chord Voicings, Improvisation Techniques, How to Play With a Band, and More!
Welcome to our beginner's jazz piano course! This 10-part series is designed to give you a solid foundation in jazz piano techniques and concepts. From learning basic jazz chords and voicings, to understanding the scales and modes used in jazz, to practicing improvisation and comping techniques, we will cover everything you need to know to start playing jazz piano.
You'll have the opportunity to practice playing along with custom bass and drum backing tracks that we've meticulously recorded and are making available to you absolutely FREE! By the end of this course, you will have a strong understanding of jazz piano and be well on your way to becoming an intermediate or even advanced jazz pianist. So let's get started on this exciting musical journey!
Here's a summary of the 10 lessons in this course:
Basic 7th Chords: Learn the basics of jazz harmony by understanding the use and construction of 7th chords, the backbone of jazz music.
Blues Progression and Shell Voicings: Master the essential elements of the blues in jazz by studying the use of shell voicings and basic swing rhythm when playing the blues.
Cycle of 5ths and Turnarounds: Explore the intricacies of jazz harmony by studying the use of the cycle of 5ths, chord extensions, and turnarounds.
Let's Start Improvising: Learn the basics of improvising by understanding bebop scales and rootless left hand chord voicings. This lesson is super important!
Chord Extensions: Improve your chord progressions by understanding the use of 9ths, 11ths & 13ths. These upper structure notes, when added to chords, will dramatically change the richness of your chords.
Tackle Lead Sheets Like a Pro: Unlock the secrets of jazz standards by learning the melody, chords, and improvisation techniques to tackle some of the most famous jazz tunes and become a more versatile musician.
2-Hand Comping Techniques: Enhance your accompaniment skills by learning comping techniques that enable you to create rich harmonic support for a jazz soloist and become a more confident band player.
Advanced Jazz Blues Progression: Learn the advanced progressions for blues which essentially add chord changes to every bar and sometimes two chord changes per bar, plus you'll get an advanced turnaround for the last 2 bars.
RH and LH Coordination: A jazz piano tutorial designed to help you learn Jazz Syncopation in 1-Minute Habits that will improve your Left & Right Hand Coordination & two-hand independence. 1. Swing Hanon exercises. 2. Two-handed coordination exercise. 3. Block chords exercise. 4. LH Bass & RH comping
5 Jazz Standards Every Beginner Should Know: In this final piano tutorial in our 10-part course for beginners, you will learn 5 standards every jazz pianist should know. Learn what key to play the tune in, the feel, the tempo, the form & recommended chord progressions. This jazz tutorial includes downloadable Lead Sheets (PDF).
Join the Beginner's Jazz Piano Course Today!
The Ultimate Beginner's Guide to Jazz Piano
Step 1 – Fill Out the Form | Step 2 – Confirm Your Email Address | Step 3 – Get notified when courses are posted
*This course is provided by Jazzmentl.com, no credit card is required. By signing up for this free course, you agree to receive occasional emails with related content and promotions from jazzmentl.com. You can unsubscribe at any time.