new youtube livestream
MASTERCLASSES coming soon
COMING SOON! We're hosting a series of jazz piano masterclasses on our Jazzmentl Youtube Channel to help you learn, and perform like a pro, jazz standards like the following video recording.  Hi, I'm Paul Tobey, I'll be your host and instructor. 
Here is a quick sample of the level we'd like you to achieve as a jazz pianist…
Each month we'll focus on a new standard and how to perform the head and improvisations along with bass and drums.
In each of the masterclasses, the 1ST HOUR will focus on step-by-step instructions surrounding chord voicings, rhythm, soloing techniques, and more!   
In the 2nd HOUR, I'll listen to volunteers in the group who wish to share their performances, live or pre-recorded and give you some really constructive feedback on what to focus on to help you get to the next level.
Here's a quick outline of what's to come:
Blue in Green by Miles Davis. 
In this session, we'll take on one of the most difficult styles: the jazz ballad.  Rich chords and notey improvisations will be the main focus!
Bernie's Tune by Bernie Miller as played by Gerry Milligan.
This is a popular standard at jam sessions.  You'll learn how to solo in D minor by understanding the cycles of 5th's and apply that to the chord changes.  I will transcribe one of my solos and walk you through the reasons why I choose the notes I do, a great way to learn!
So What by Miles Davis.
Another popular Miles tune, So What is beloved the world over.  You'll learn all about modal scales and how to apply them to this 2 chord tune.  I'll also introduce you to the concept of "playing outside."  We'll learn and practice a transcribed solo and perform it and some improvisations with an up-tempo swing backing track.
Wave by Carlos Antonio Jobim
Every jazz piano player who wants to excel at their craft needs to learn how to perform a Bossa Nova and how to play advanced chords.  Wave is one of those songs that every musician should put 1st.  It's classic jazz harmony at its best.  When you learn these chord voicings it will help in every song you play going forward.
Cantaloupe Island
What would a masterclass series be without one of the most popular straight-ahead feel tunes of all time?!  In this session, you will learn how to comp simple rhythms and chord changes for this type of boogaloo feel.  It's a part of jazz to learn this style and when you do, you'll be able to comp and solo for all types of straight 8th jazz and rock standards.
??????
During the previous masterclasses, we'll get to know each other pretty well and we'll progress as a group if we practice what we learn.  I will give you some pretty solid practicing advice so that shouldn't be a problem.  Anyway, for this session, I'll ask the group for recommendations for the tune and we'll come to a decision together. I may make some suggestions myself however, it's up to the group to decide!
Class sizes will be limited to so that you can get air time and constructive feedback as well as get your questions answered.
We will be launching this Livestream membership on my YouTube Channel very soon!
Get on the notification list for:
YouTube Livestream Masterclasses
Step 1 – Fill Out the Form | Step 2 – Confirm Your Email Address | Step 3 – Get notified when masterclasses begin
As a career artist, I won awards like the "Educator of the Year Award," from the (IAJE) formerly known as the International Association of Jazz Educators. I have other awards in my piano studio that say "Pianist of the Year" "Best Contemporary Jazz Album" "Juno Nomination" etc. During my career, I have earned several cash awards and support from Canada Council of the Arts, The Foundation Assisting Canadian Talent on Recordings, Department of Foreign Affairs and among others.
Hmmm….let's see what else would help you decide if you are in the right hands. I've been blessed with a great career in jazz. I've toured several countries, performed many concert stages like Yokohama Jazz Festival, Montreal Jazz Festival, and even Carnegie Hall to name but a few. I've recorded 8 albums, have been featured in documentaries and have listed in Jazz Books as a "great Canadian jazz export" (lol, whatever that means). I've garnered quite a large amount of reviews from the Who's Who of jazz.
But none of that really matters. What matters is YOU!
It is difficult to find a professional jazz player who is also a Certified Trainer. I've trained thousands of people in my lifetime (groups, corporations, classes, online, etc). I am in a unique position to combine both my skills as a professional recording/touring artist AND as a Certified Trainer to offer these trainings to pianists.
Not everyone can afford to study with a Jazz Master. Also, it may be very difficult to find someone in your town. In addition, you may find a great player but he/she may not be able to train or communicate their ideas. Also, if studying online, technology sometimes gets in the way.
1. What if, in the end, you don't want extra attention and help, no worries. My Youtube channel offers a huge amount of high quality tutorials for free! The Masterclass gives you access to me in a more intimate way.
2. I am hugely qualified to offer these Masterclasses! If you like my style of playing, read on and then register!
3. Don't let tech get in the way. As long as you have access to a good internet service, you will be fine.
Did you know there are 4 types of learners: Visual, Auditory, Verbal and Kinesthetic learners? I am highly trained to identify which type of learners students are and adjust my methods so that you could consume and retain up to 85% of the knowledge I share with you.
ARE YOU READY?
Register above to be notified when we start. I'm limiting the registration per Masterclass. I'll notify you when the membership is available on YouTube.
In the meantime, here's some interesting comments from other piano players on the "Jazz Pianists Group on Facebook."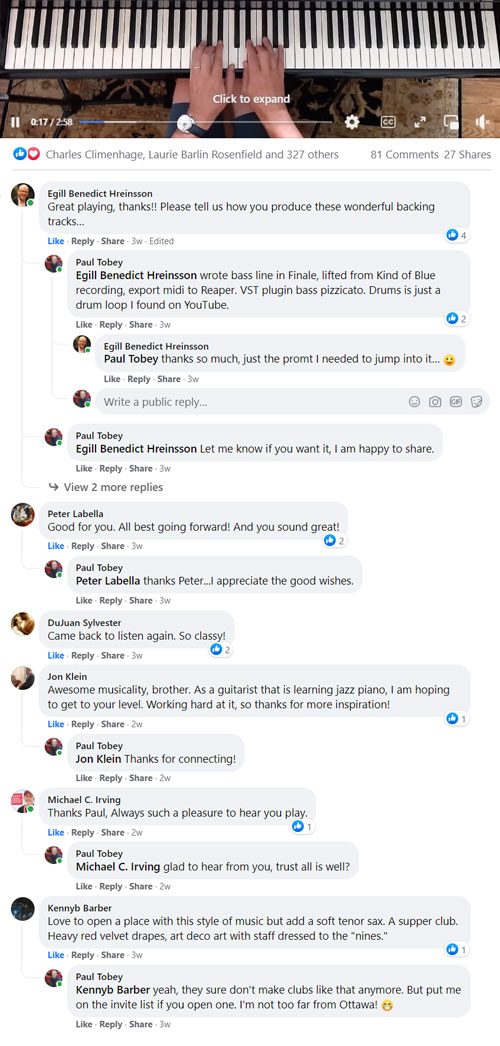 Are you ready to take your playing to the next level?